I can't believe Thanksgiving has already passed. This year is flying by.
To get the boys ready for Thanksgiving I made them these cute turkey shirts. When I was looking around on blogs for holiday crafts I accidentally came across this shirt. Sadly I don't remember where I found it. I saw it a few weeks ago and just bookmarked it in the back of my forgetful brain. I am thankful I didn't forget about it.
I actually saw a couple different versions of this shirt. This is what I put together after getting great ideas from others.
I had the boys let me trace their hands on a piece of white paper. I cut out their hands and used them as tracers to make the felt handprints.
I didn't actually get pictures of the boys showing off their shirts :( but I did manage to get(not so good) pictures of them after Thanksgiving dinner.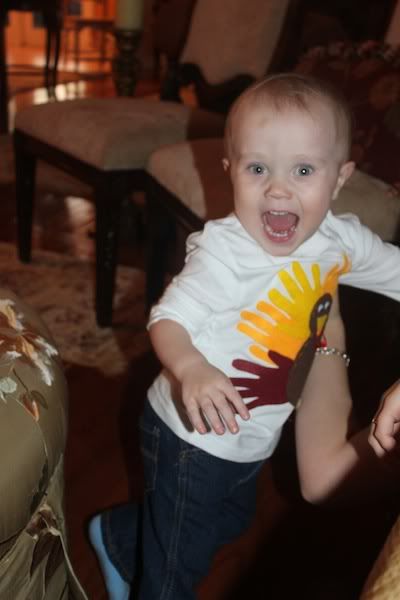 G loves his cousins! Well both boys do, but you can just see the love on his face as he's running to 'tackle' one of the girls who was laying down after the big turkey dinner.
M looking around for one of his cousins. She had gone upstairs and leaned over the balcony to yell down at him earlier and whenever he didn't see her he would look up and call her name.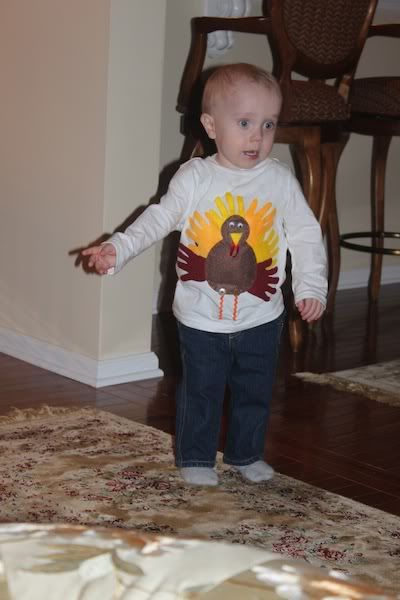 If the girls weren't right there with them the boys would look around and start yelling their names. They are SO smitten!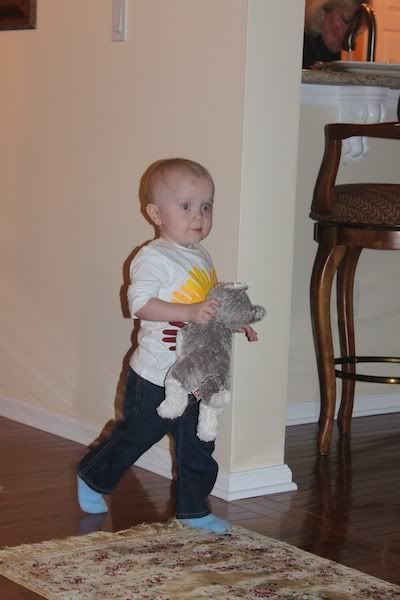 G with his 'Woof Woof'.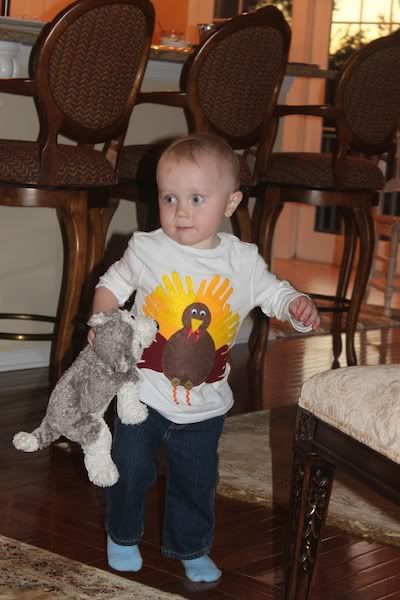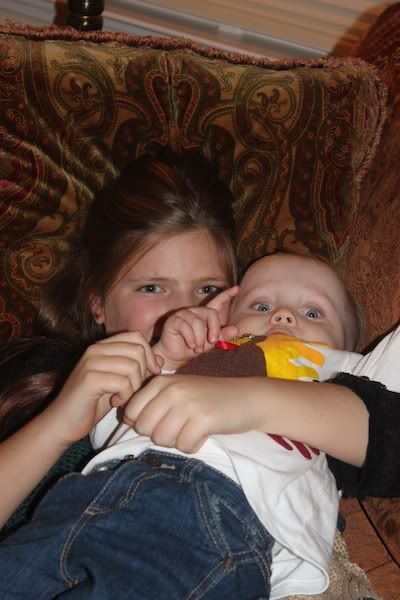 M with his cousin B.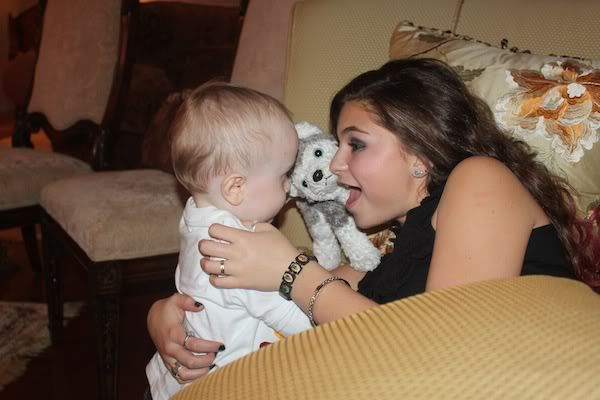 G with his cousin J.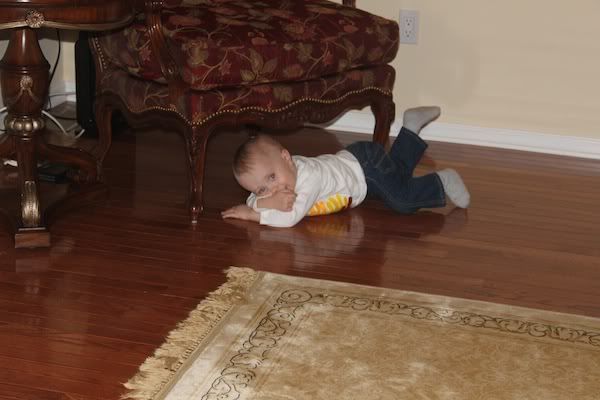 M trying to sneak under the chair to turn on the little TV that my aunt tried to hide back there.
Daddy got over there before he could reach it again and decided to swing him around.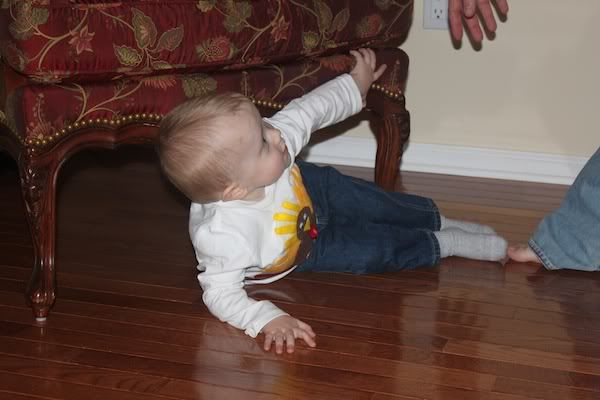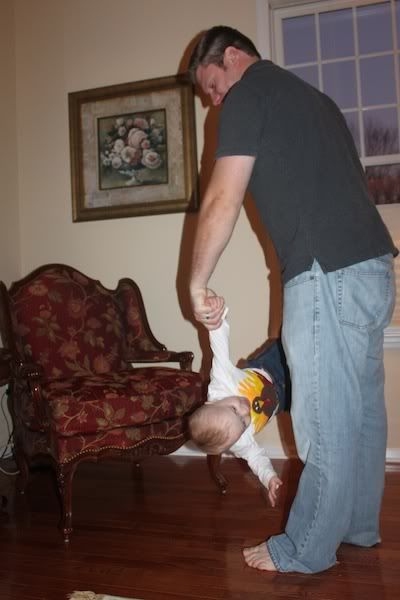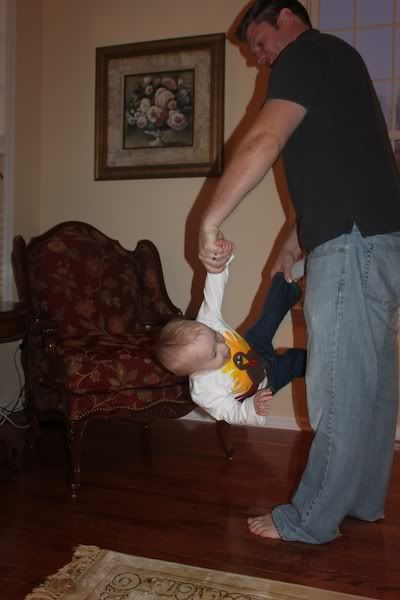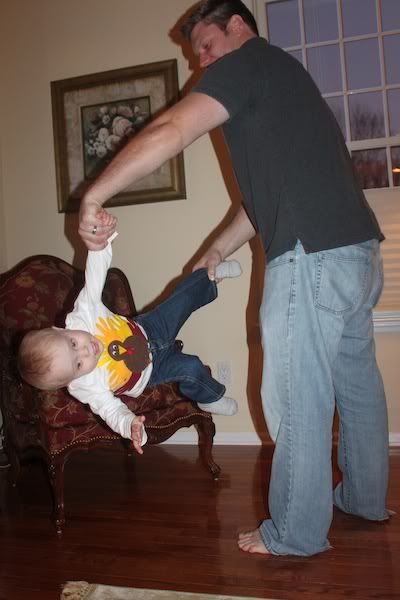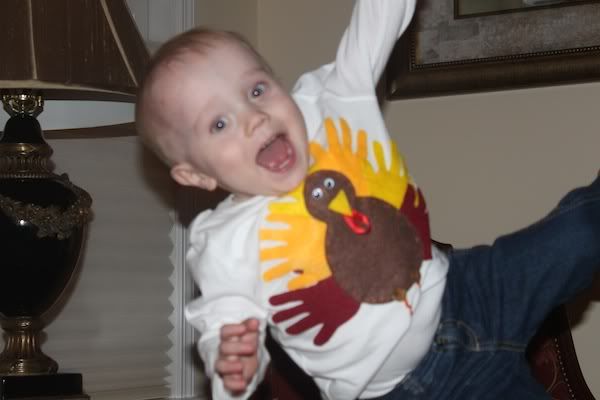 I know this is a horribly fuzzy picture, but I just LOVE how it shows how much fun M is having being swung around by his Daddy.
After dinner when everyone was stuffed and didn't really want to move anymore my Uncle went down to his basement to pull out some of his Hess truck collection pieces. The boys had a BLAST playing with them. The boys Grandpa gave them Hess trucks last year for Christmas and we put them up in our attic (for the time being). I had just said a week or so ago to the Hubs that we should get them down because of how much the boys love trucks, planes, trains, well really any mode of transportation. After seeing how much fun the boys had with them at my Aunt and Uncles we will HAVE to get up into the attic quick! M played with them for about 4 minutes, but G played with them for a good solid half hour.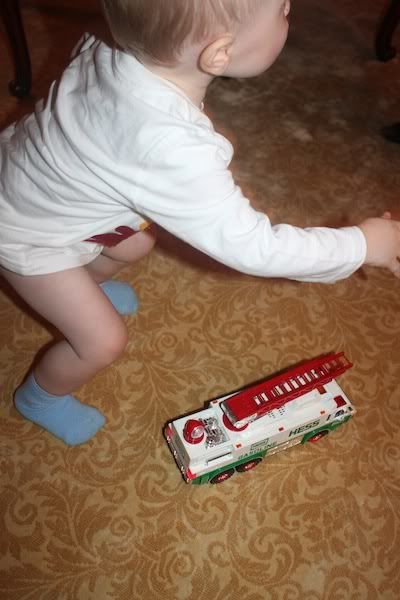 Don't mind the pant-less baby. :) I had just changed their diapers and couldn't sit on the floor any longer ... I put their pants back on them a few minutes later. .. or maybe it was 30 minutes later when G was done playing with the trucks as intensely as he started.