A few weekends ago my Aunt Doris came up from Florida for a little visit. Since she moved down there (I don't know 10 years ago) she has not come up for the Fall. She was so excited that she was going to get to see the Fall colors. She wanted to spend a day with the boys. We thought it would be fun to go to the Pumpkin Field.
After the plans have been made I found out that my brother was coming home from California for the weekend. He was thrilled to hear we were going to be going to the pumpkin patch. He said he wanted to do something fun with the boys.
For the entire week I was coaching M and G to say Aunt Doris. They were getting pretty good at it. It was more like Doar. Too cute.
When we got to the field we told them we were going to get to see Aunt Doris. We were walking to the meeting point and I see her waving and jumping so excited to see the boys. All of a sudden M and G start yelling Doar, Doar, Doar and begin to walk faster. We let go of their hands so they could 'run' to her. They walked right past her. Behind her was a dog. They were yelling dog, dog, dog, NOT Doris. We all thought it was hysterical :)
We went to Ort Farms in Long Valley. My four years of teaching first grade one of my team members was an Ort. Last year we went some where a little closer to home and Miss Ort was very sad that we didn't bring the boys to see her at the farm. We figured especially now that's I'm not working with her anymore we had to go to her family farm. I am SO glad we did. Her farm was definitely more geared towards little kids. It was AMAZING!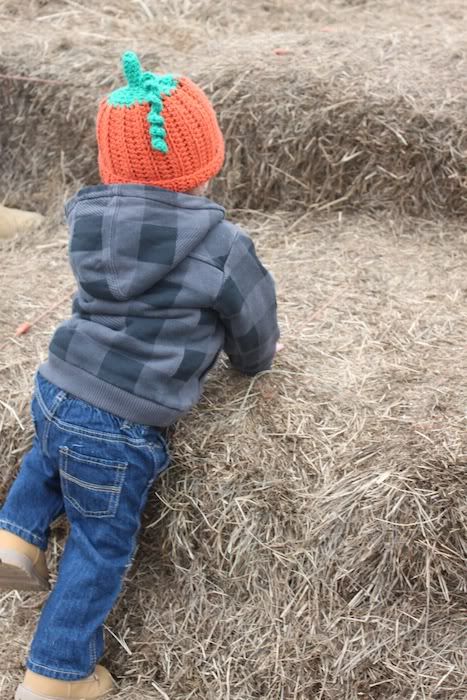 There was a hay mountain that the boys climbed.
They had a little help from their Daddy and cousin Brooke. My Aunt picked up my cousin (her niece) from her Nana's house so she could come with us.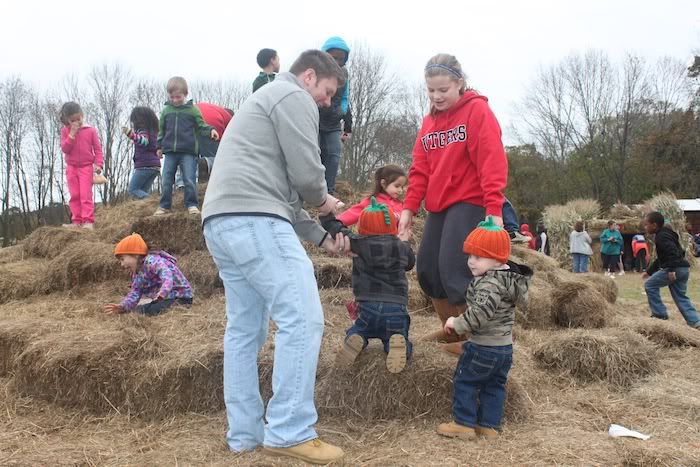 We were thrilled that she was there. G did not let go of Books hand the entire time. He still talks about Book three weeks later and I get so confused saying ok I will read a book. He says no Book Brooke. He doesn't completely get that R in there.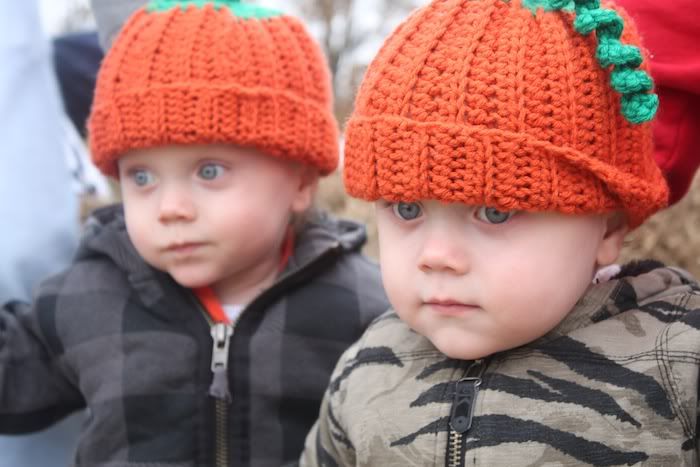 G right, M left.
G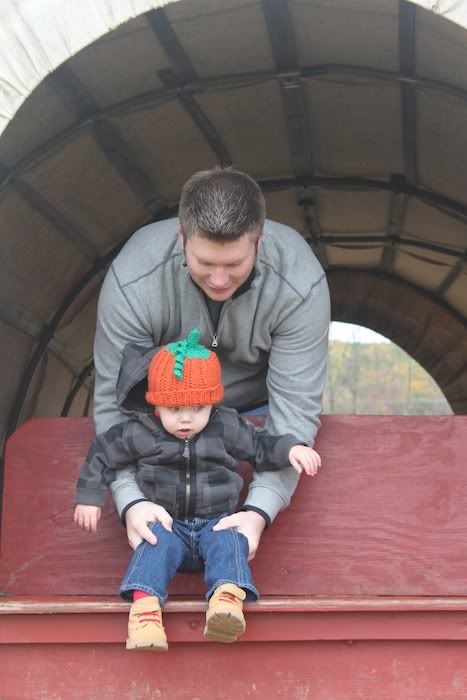 Daddy and Brooke took the boys on the wagon. (Daddy and Brooke got to have all the fun). :)
Aunt Doris and Brooke took the boys on the train ride. It was actually a fire truck train. So fun, especially since the boys have been real into trains lately.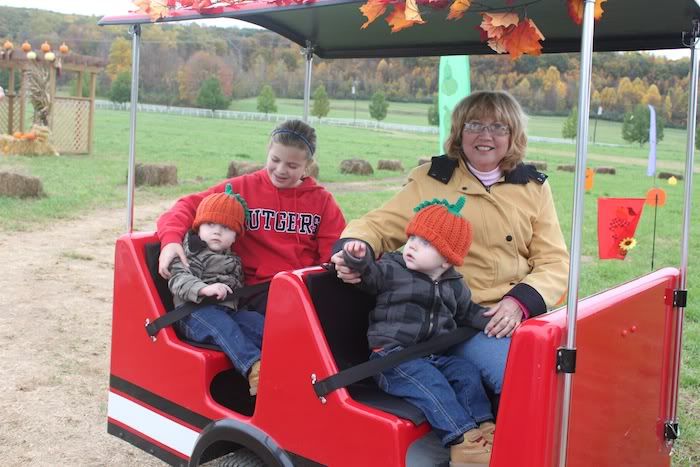 M in front, G in back.
Brooke took G over to the Clydesdale. M wasn't too far behind. They both got to pet his nose.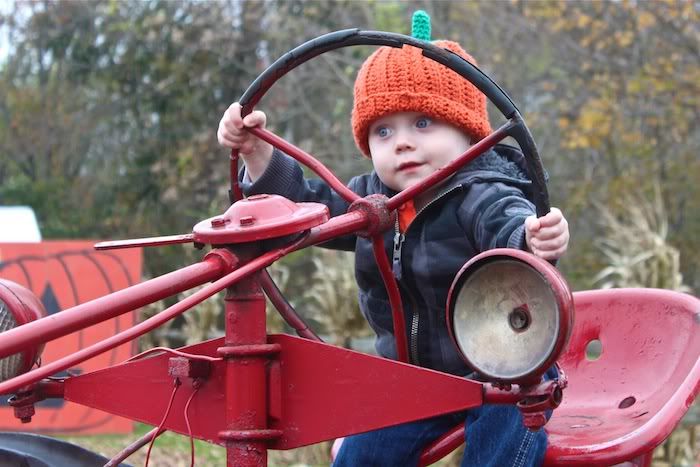 The boys got to 'drive' the tractor. This is M.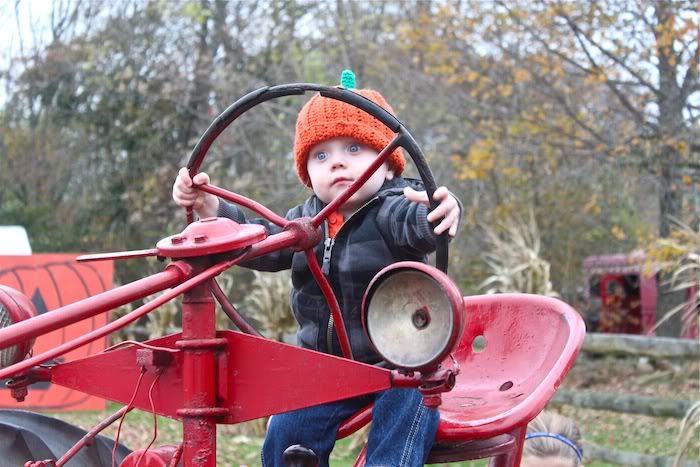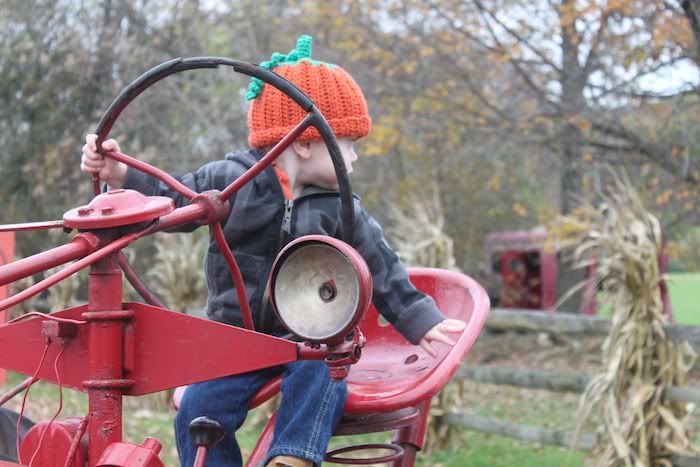 Honk, honk.
G was so excited that he was going to get to go on the tractor. He LOVES tractors.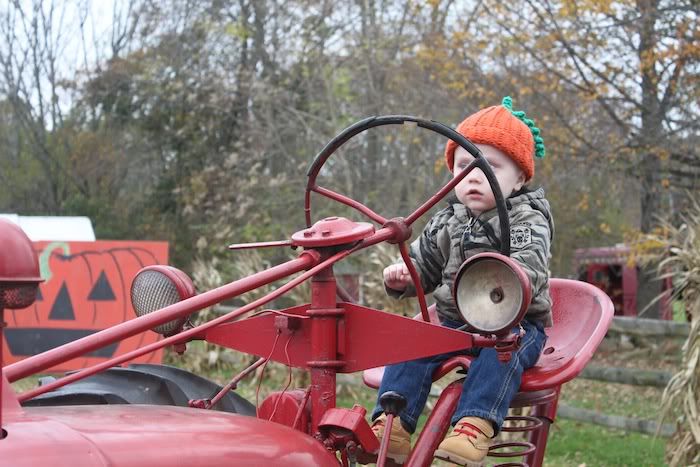 But once he got up there he wasn't too happy about it. Sadly I wasn't able to get a better picture than this.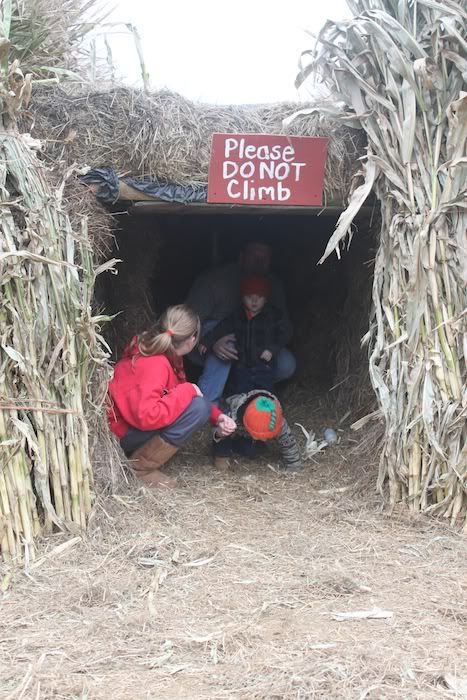 They went through a dark corn tunnel.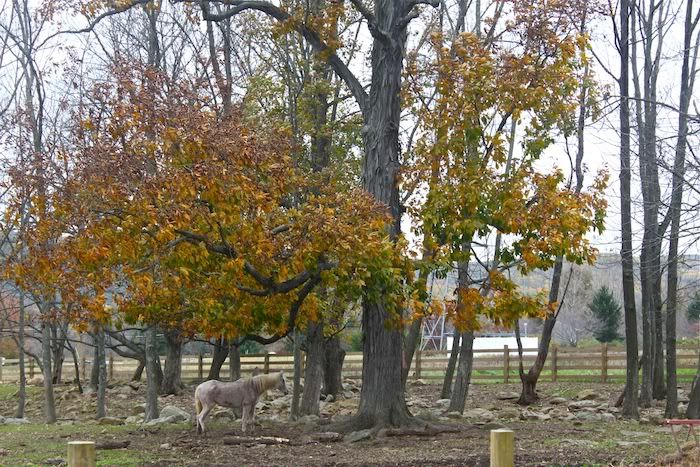 Then we went over to the animals.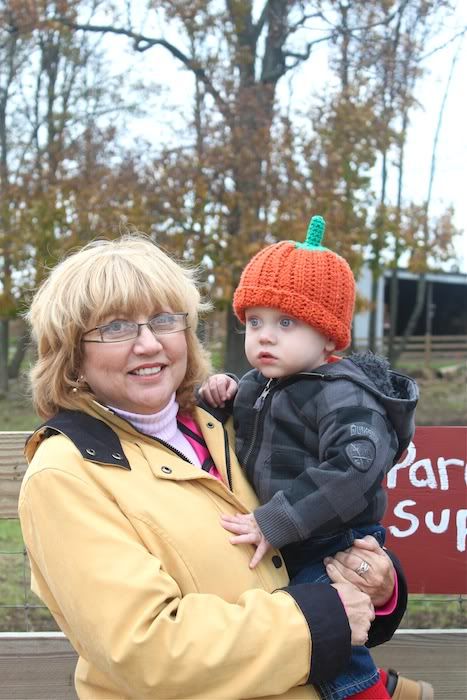 M and Aunt Doris.
I wonder what they were looking at.
Aunt Doris and M getting ready to feed the cow. Daddy decided to take M and let him feed the cow a pear. He did such a good job! He handed that pear right to the cow. The cow on the other hand, he didn't do so well. He took M's entire hand and tried to eat it with the pear. Haha.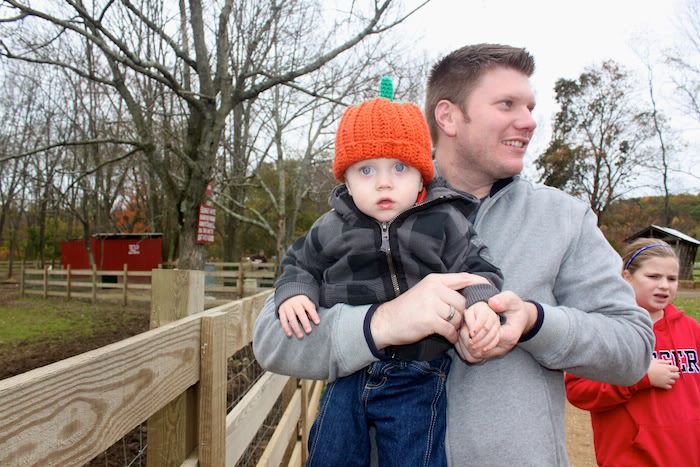 If you look at his hand you can see all the cow spit. Daddy tried to take M's hand and wipe it on the cows face to get the spit off. Neither M or the cow wanted that. The cow thought M had another pear and so we took M's whole hand again. Daddy finally found a hay bale that he wiped M's hand on.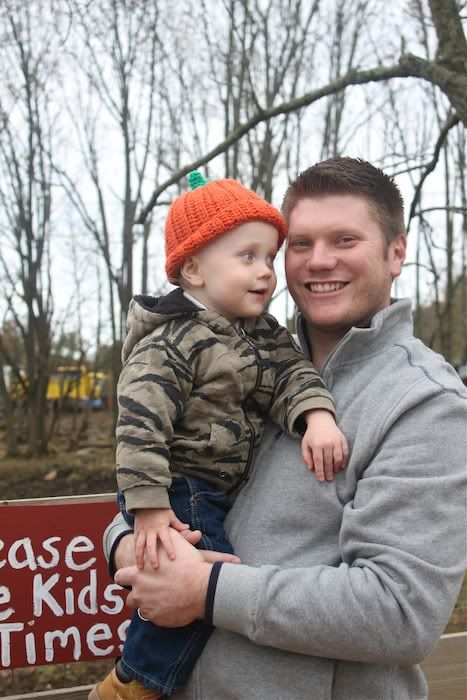 G and Daddy.
The boys feeding a goat.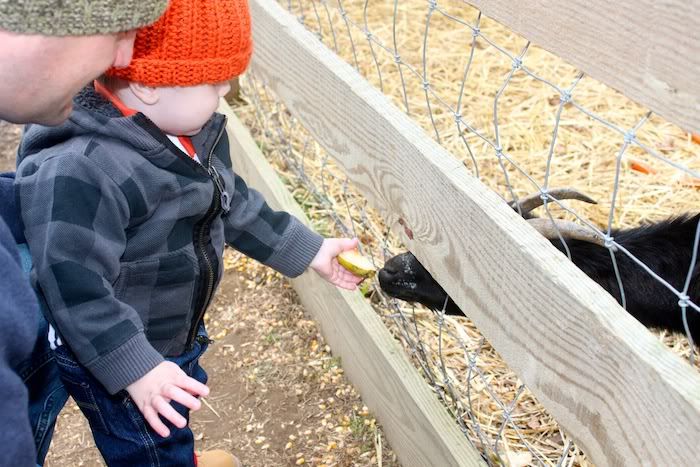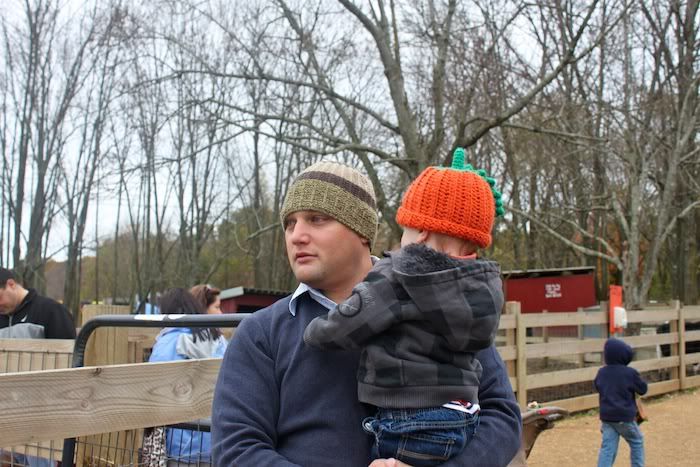 Uncle Jimmy showed up during our adventures.
After feeding the animals we went on the hay ride to go to the pumpkin patch.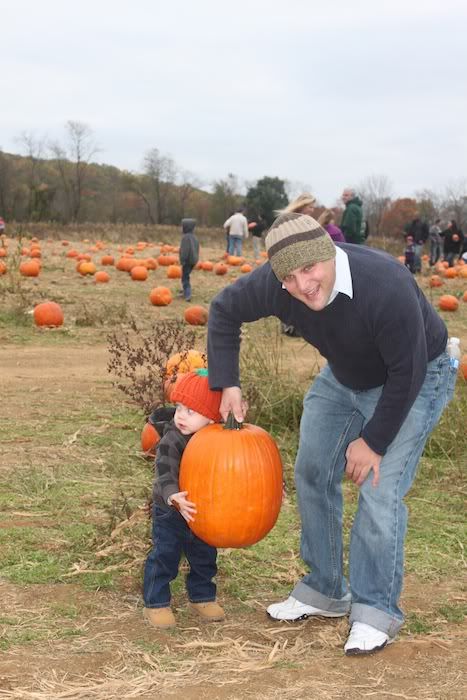 Uncle Jimmy found the perfect pumpkin for M.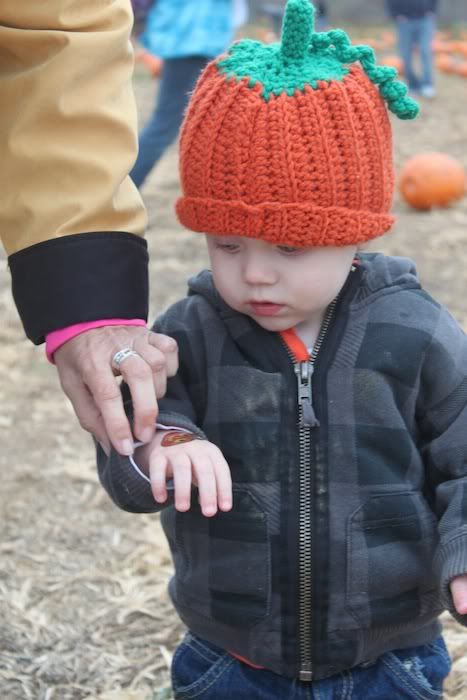 M showing off his pumpkin sticker.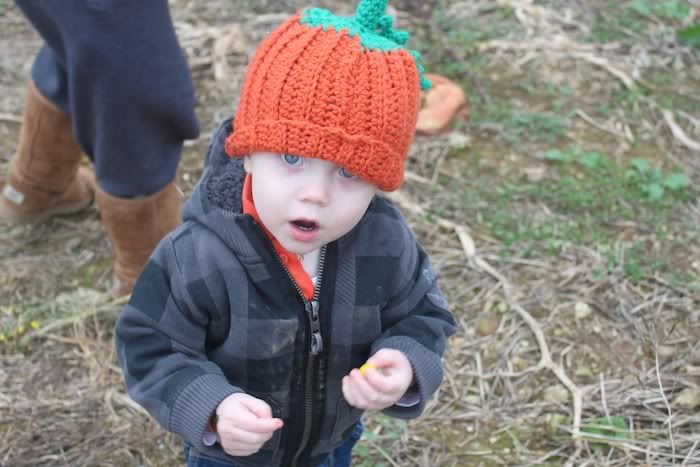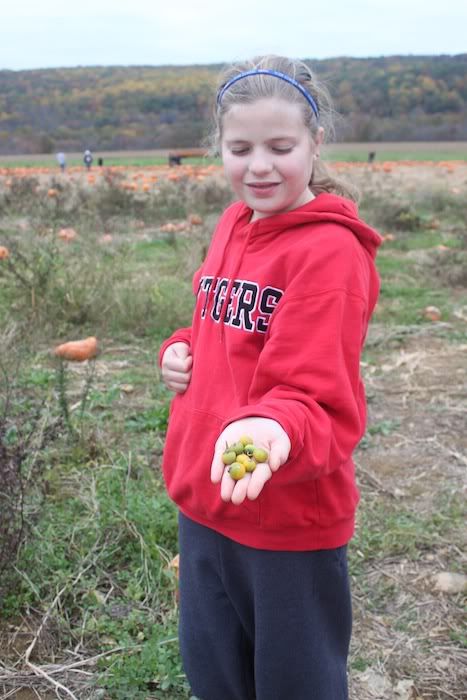 Brooke found the perfect pumpkins for herself.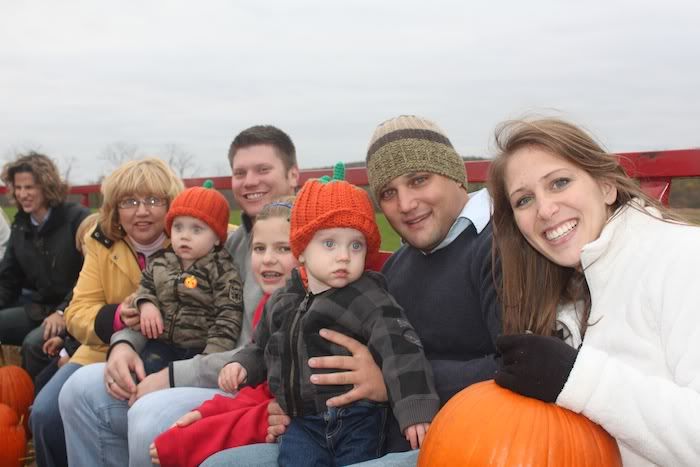 The entire gang going back to the main area.
As we were checking out there were (of course) apple cider donuts. One of the employees dropped a box on the floor. None of the donuts hit the floor, but the box did open so he wasn't going to sell them. He asked us if we wanted one. So most of us took one.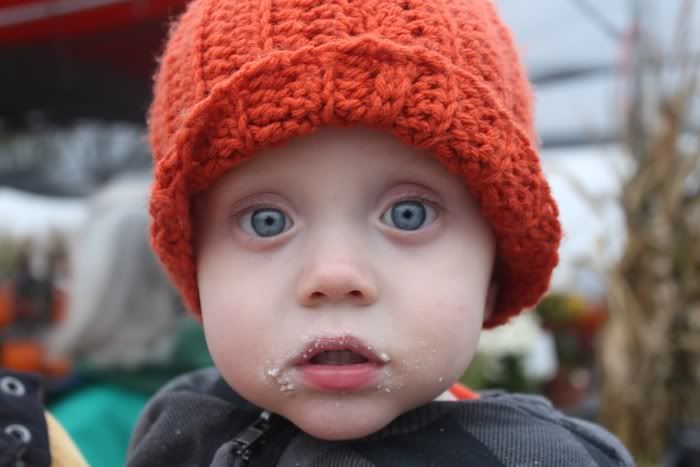 The donuts were a big hit with M.
G really liked them too. I mean come on who doesn't.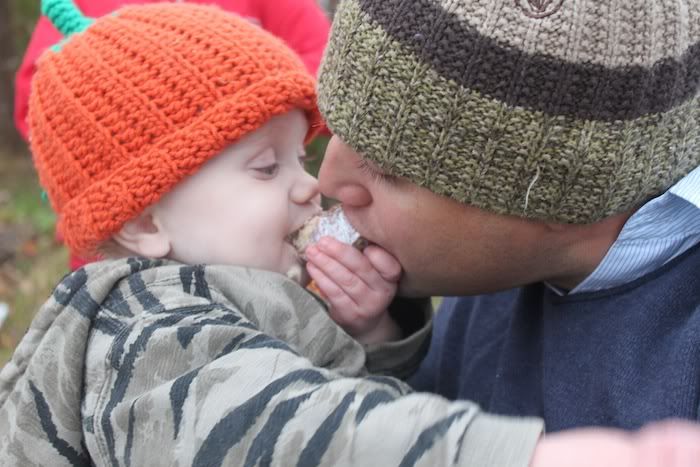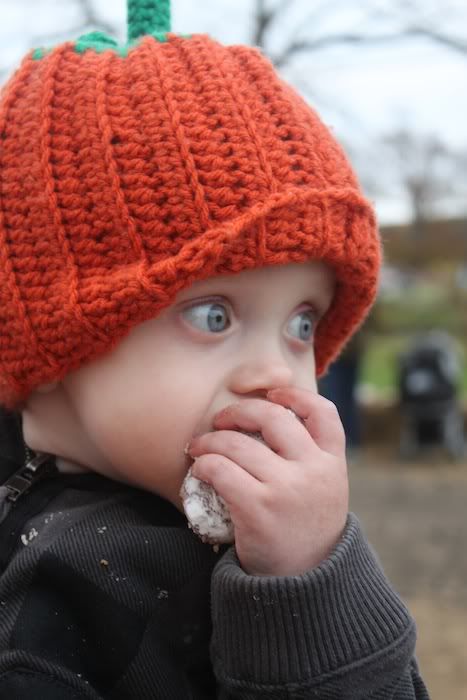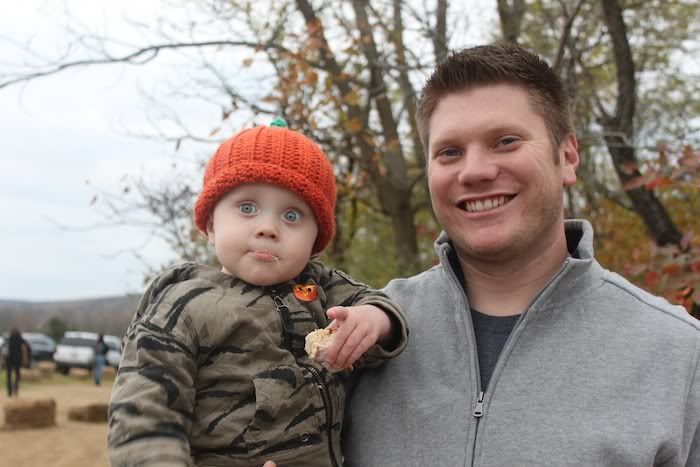 Daddy and G.
Mommy and M.