While we were in MN Hubs mom mentioned that she would love a picture of all her grandkids together. She has 9 grandkids with the 10th on the way. That's a lot of babes to get in one picture.
The last cousins picture we took was at Christmas. That picture came out sooo cute but we were missing one of the babes, she was taking a nap.
We had decided that we were going to try to get a picture of all of them together. We tried for about 3 days. One of the days there was yucky weather, another day one or more of the kids were napping. On the third day we decided it was now or never. Hubs older brothers family was ready to put their youngest down for a nap and his sisters family was ready to put their youngest down for a nap. M & G were still taking their morning nap but I decided I better go wake them otherwise we would never get this picture taken.
Hubs parents have the most beautiful yard (which I'm sure you saw in previous pictures from our trip there). It wasn't hard to find a spot to take the picture. I also remember how much the older kids liked to throw rocks into the lake. So I thought we would wander down the path by the lake so that once the pictures were done they could be rewarded with throwing rocks.
Half of the kids were walking through the field to get to the path while the other half still hadn't made it much farther than the back door. I was carrying my camera and both my babes through the field when I heard my mother in law calling my name. I turned around and there she was at the beginning of the field yelling at me to come here. I looked at her and said seriously, you want me to come to you (while looking at my arms). She laughed and said yes. She did meet me half way and grabbed a babe.
She pointed me over to one of her plants right outside the back door. She said that they spotted the neatest looking humming bird and was hoping I could get a picture of it. She said that she had never seen a humming bird like this before. Neither have I. It was beautifully strange.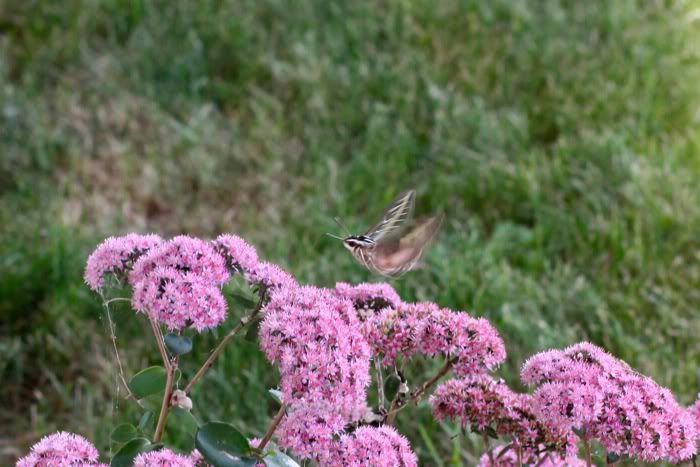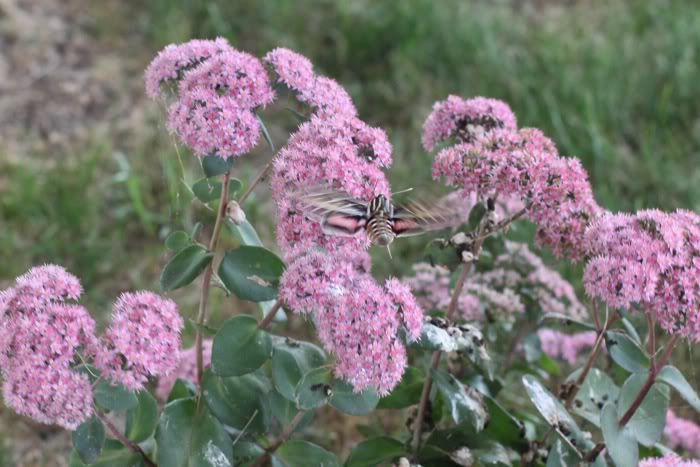 The little humming bird had zebra stripes.
After taking humming bird pictures we started our journey to the other side of the field (again).
When we got there I tried to group the kids in their families.
In the middle we have Hubs oldest brothers kids, on the right we have Hubs sisters kids, and on both ends we have our babes.
In order that would be our M, hubs brothers E, D holding S, and big sister S, hubs sisters K holding M and I, then finishing off with our G. (I just love that smirk G has on his face).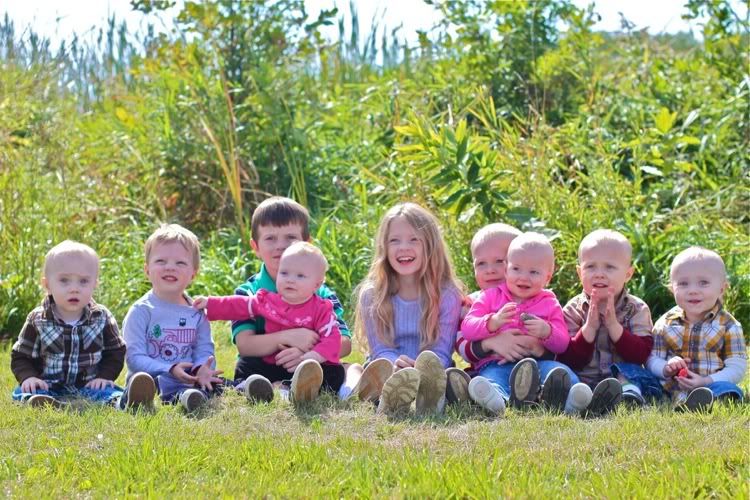 This one is my favorite!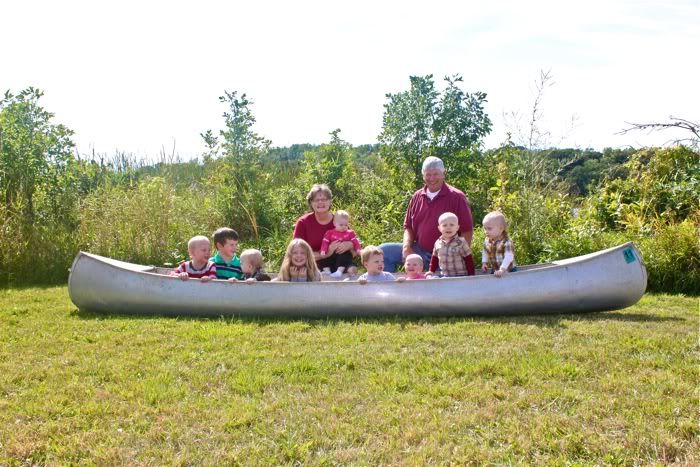 Grandpa and Grandma had their canoe just off to the side and we thought it would be fun to put all the kids in the canoe. Of course we had to get the Grandparents in there too.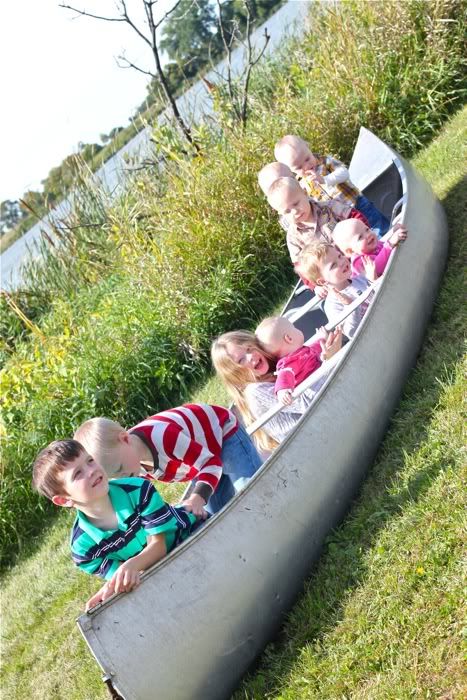 Here's a little series of Hubs older brothers kids. S, D, E, and S.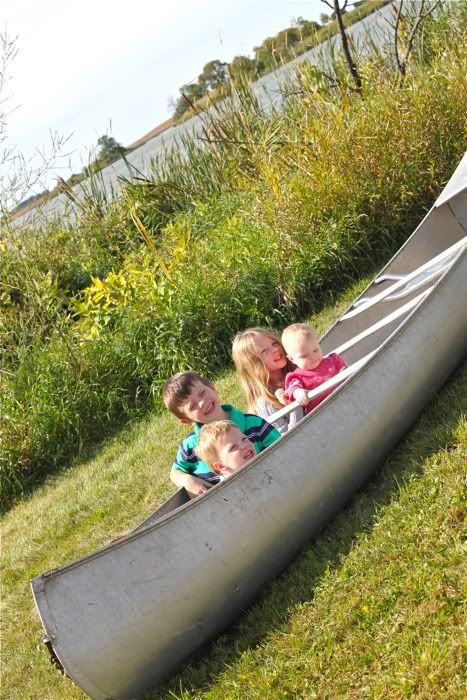 Sisterly love. S and S.
Here's a little series of Hubs sisters kids. K, I, and M. She is who has the 10th grandchild on the way.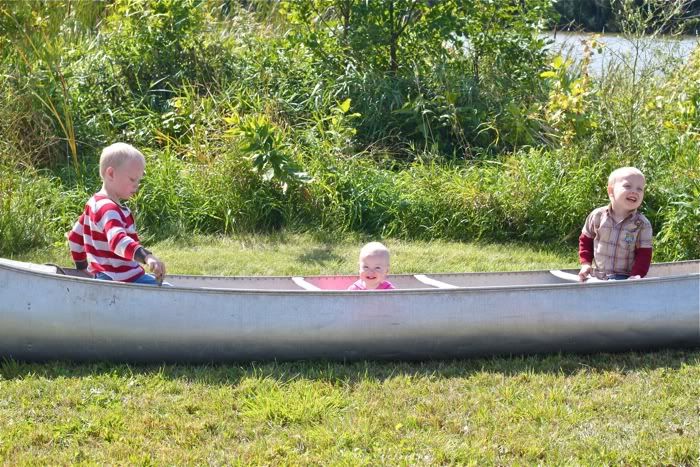 I love how M is sitting in the middle of the canoe with this big old smile and the boys are like, seriously can we be done now.
Here is a little series of my hams.
M on the left and G on the right. I love G's face, it's like, come on a canoe on land, what fun is that?
As promised after beautiful smiles the kids were allowed to throw rocks in the lake.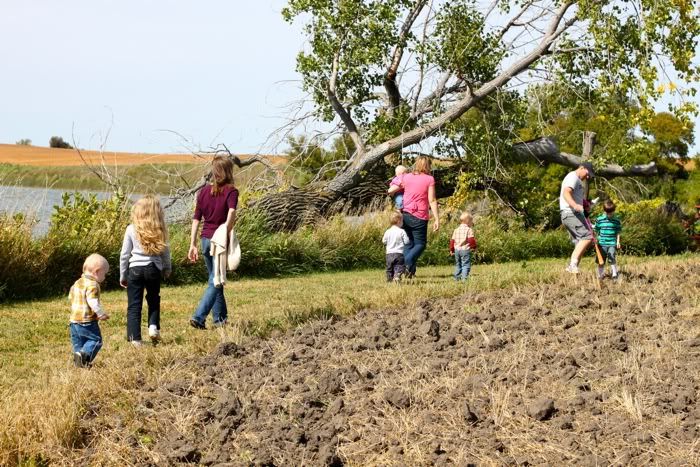 Grandpa joining in on the fun.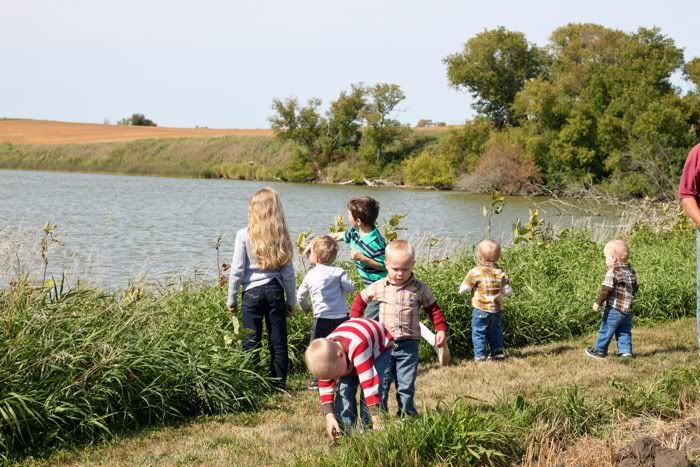 On our way back through the field the boys got a ride with Grandpa on his mower.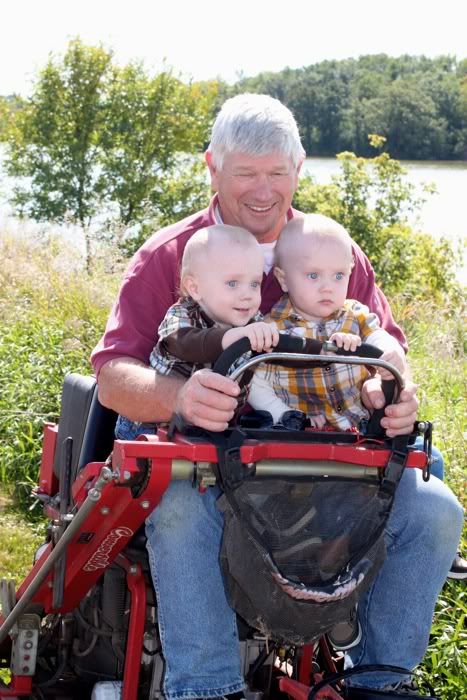 Some people were a little nervous the pictures wouldn't come out good because how sunny it was. Ye of little faith :) Oh wait, I think they came out good, but maybe they don't :) So after our rock throwing I brought everyone over to the side of the house were there was a large section of shade. I'm not complaining we did that, because I think these pictures came out cute too.