While we were visiting Hubs family he was so excited about taking the babes out for an adventure on the farm. They LOVE trucks, cars, anything that vrooms and Daddy was so excited to bring the boys to see the tractors.
Daddy and G.
Grandpa and M.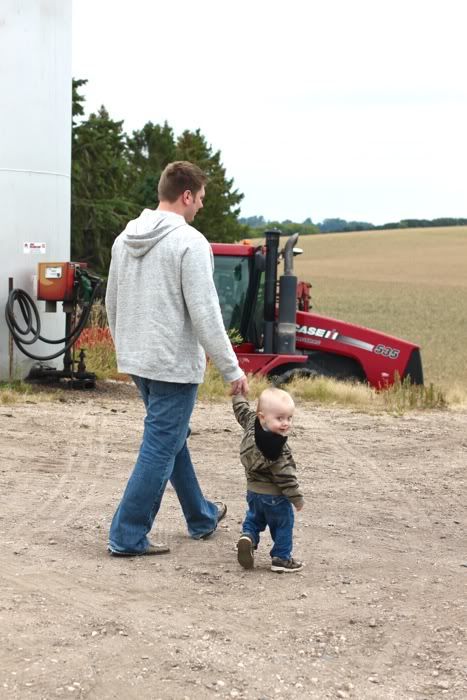 We took a little walk to get to the first piece of equipment.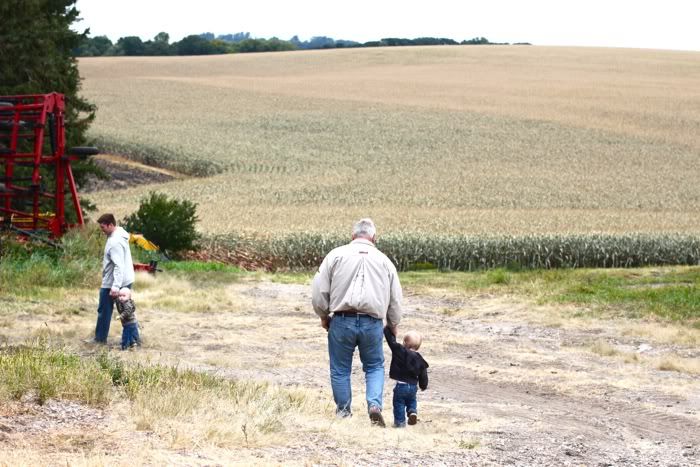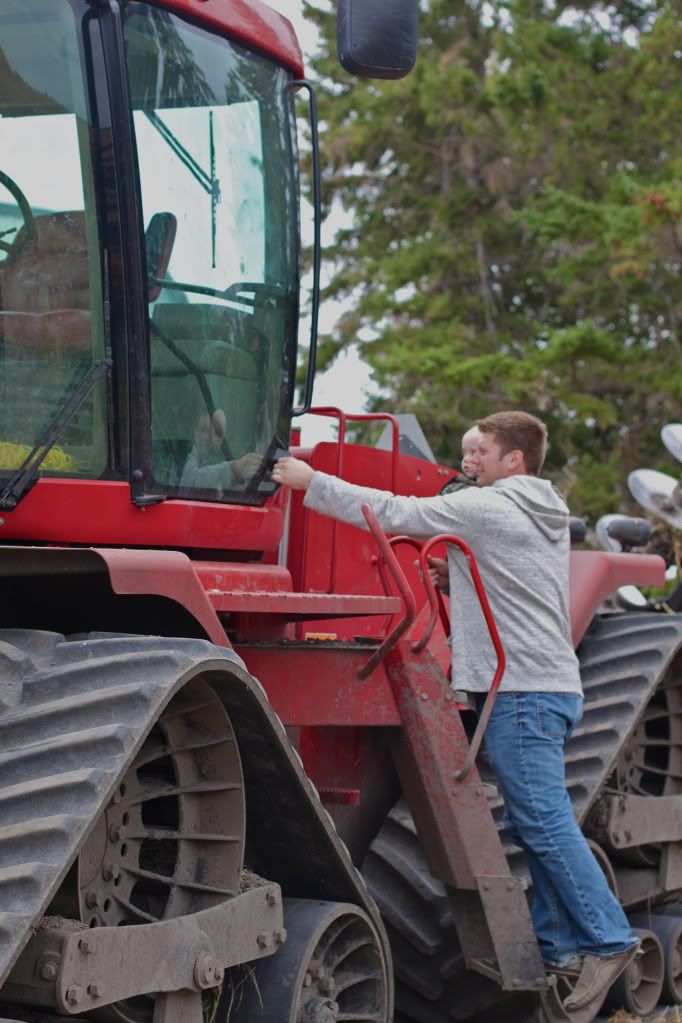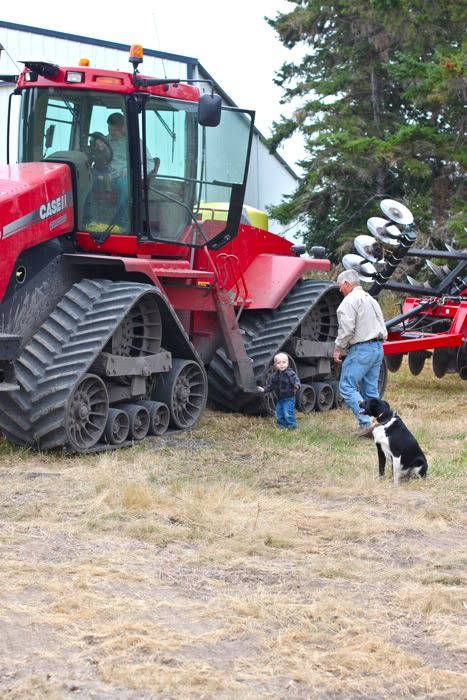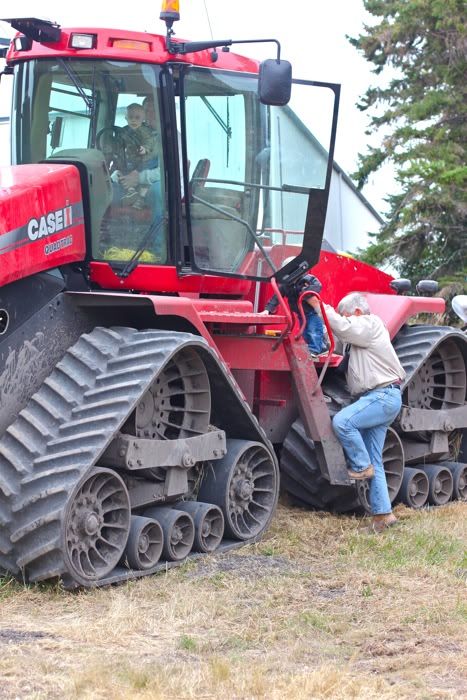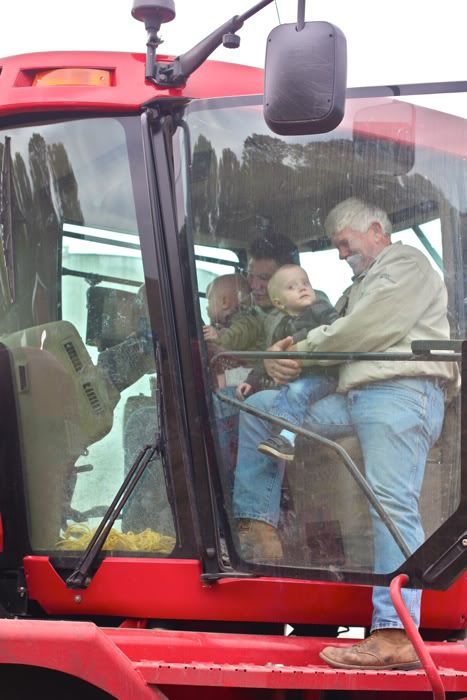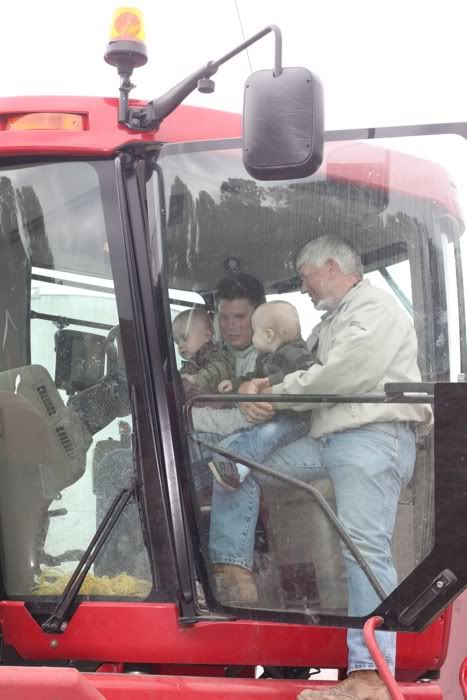 Grandpa and Daddy turned it on and the boys were able to turn the steering wheel and beep the horn. They were having a blast.
We decided to walk down to the fields where there was a huge path through the corn.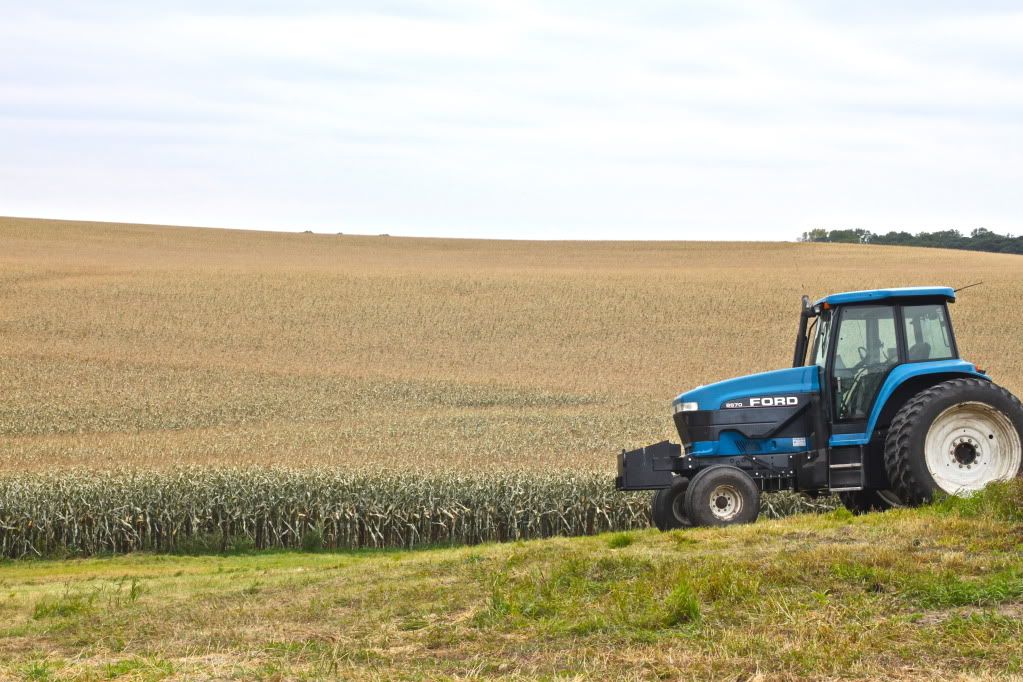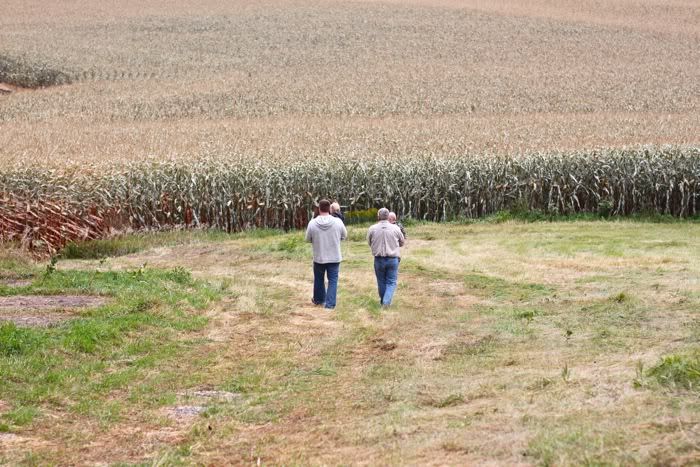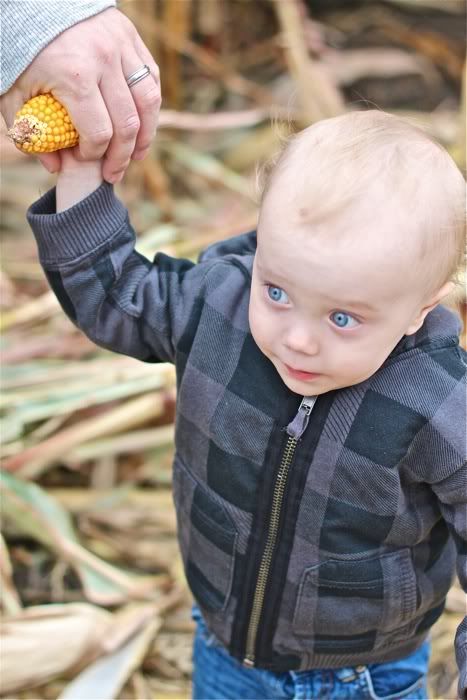 Grandpa thought it would be fun to show the boys some of the corn. Just a few weeks ago we gave them corn on the cob for the first time and they LOVED it. The second Grandpa handed it to them I yelled...NO they are going to eat it. We all just laughed when they instinctively tried to bite it. Sorry babes, this isn't sweet corn.
It was a bit chilly this day and extremely windy at times. Just look at G's hair and face. They don't love the wind blowing in their faces.
We let the boys try to climb the hill back up to where all the equipment was.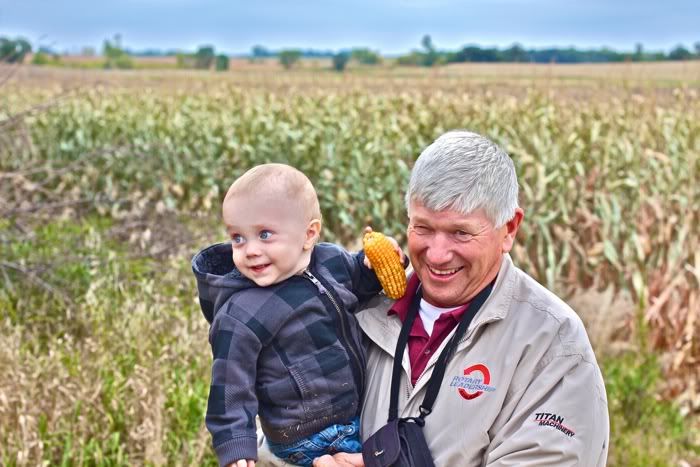 Grandpa came to the rescue and scooped up M to help him up the hill. M was thrilled that he didn't have to keep trying to push against the wind to make it up that hill.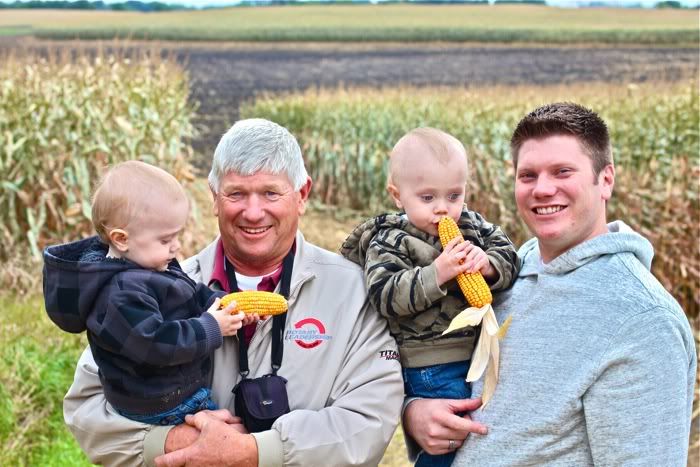 G giving Daddy a big kiss to say thank you for showing us all of this fun stuff.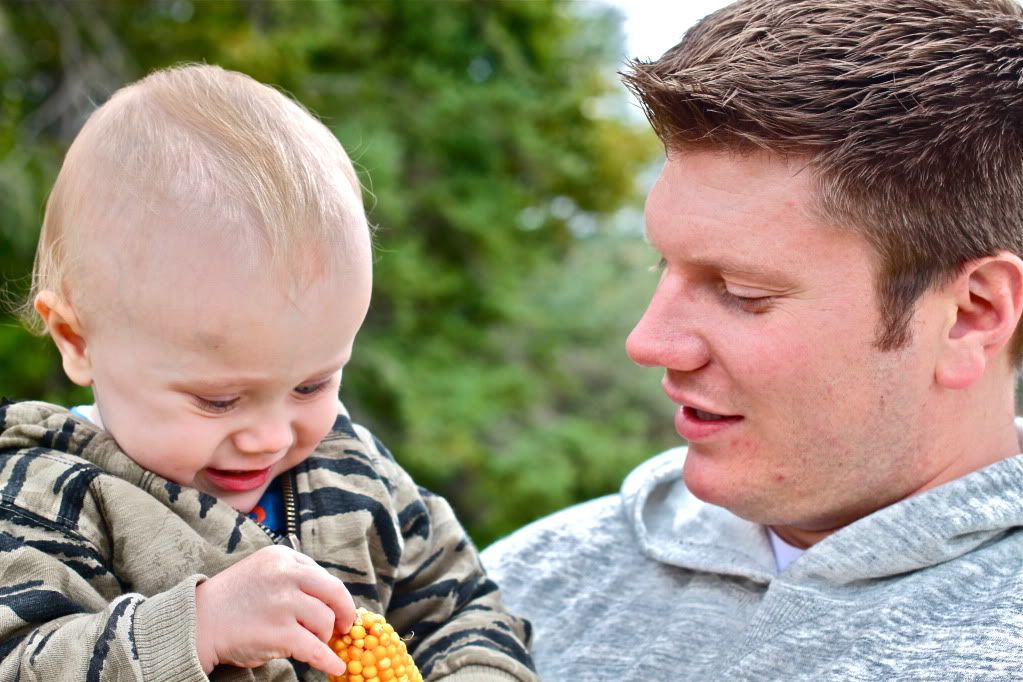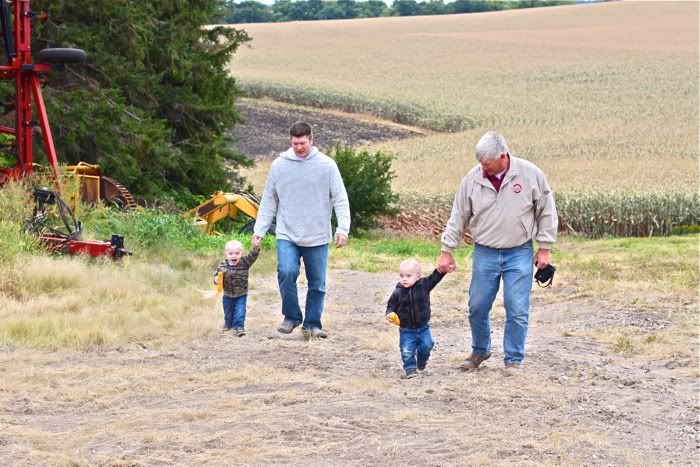 After going down to the field we went into the shed to see some more equipment. Trust me it's not a shed, it's bigger than my house (MUCH BIGGER) but that's my city girl name for it.
We saw one of the brand new combines.
It is so big that the boys fit in the wheel well.
By this time the babes were so tired. It was hard work walking up and down the hills. G left, M right.
We went to another area of the farm to try to find Great Grandpas original tractor. Hubs really wanted to take the boys for a ride on it. After searching they finally found it, but it was too far back in one of the sheds. So hubs decided the four wheeler will do.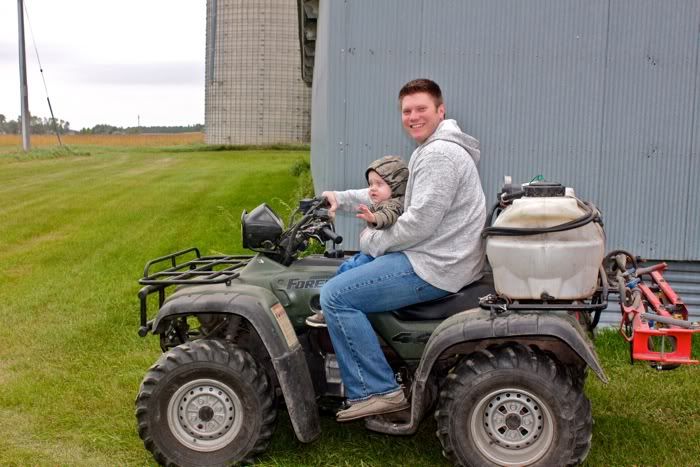 Gunnar wasn't too thrilled to be on the four wheeler. He has become a little cautious about things lately. I think if it was a little less windy he wouldn't have been as uncomfortable on it.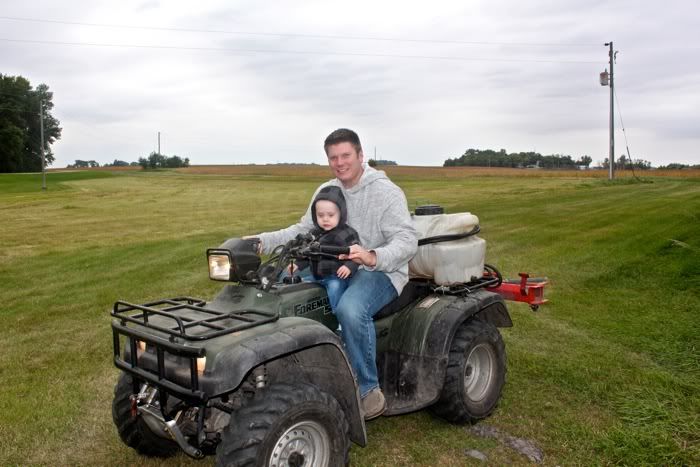 M was really funny on the four wheeler. He just sat back and by the time they finished their little yard lap he had his fingers in his mouth looking like he was ready for bed.
We had a best time on the farm :)
By they time we got them back to the house they fell fast asleep. :)