Hubs and I had a chance to get out to Minnesota for a long weekend. We were excited to take the boys out to visit with their Grandma, Grandpa, 7 cousins and aunts and uncles.
We had to opportunity to drive out there and fly back. Hubs and I have been able to do the drive in about 19 hours. If one of us is driving and the other is sleeping we would stop and fill the tank run to the bathroom and not wake the other. If we were both awake we would both run in and back out. We would fill a cooler and eat while driving. We never stopped for longer than 10 minutes.
We did the drive when the boys were 9 months old. It wasn't too bad. It took us about 22/24 hours. We left at night so the boys would hopefully sleep through the night (they did). When they woke up in the morning I nursed them in the back of the van, changed diapers, then we went into a rest stop, laid out a blanket, and let them wiggle for about 20 minutes before we got in the car to start driving. They would sleep for about 3 hour intervals and I would do the whole nursing, diaper changing, blanket laying thing again. They cried for maybe a total of an hour during the entire 24 hour period. It was amazing.
I was incredibly nervous about the drive this time. The babes aren't babes anymore. :( They are boys. They don't sleep ALL day anymore (yes they still sleep a good part of the day), but I knew I had to have some incase items for our drive.
I had some good ideas for their treat bags but I wanted to get some ideas from other people who have gone on long car rides with their toddlers. I'm pretty sure to them they think a 2/3 hour drive is long. haha :) I got some great ideas from some friends and this is what our treat bags looked like.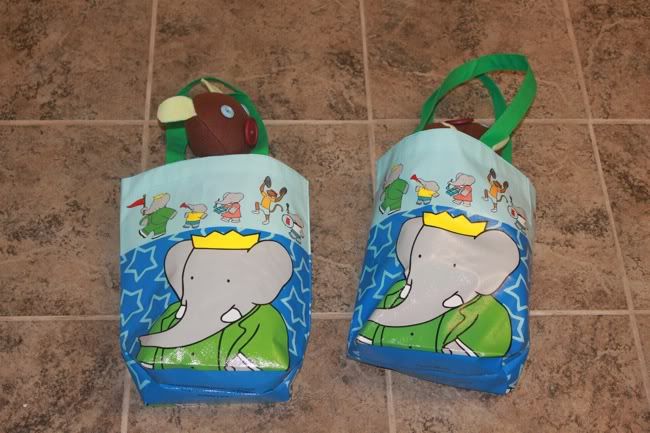 I bought two Babar bags from Target for a dollar each. I knew the boys wouldn't be carrying their bags but I wanted to keep the treats contained and I thought it would be fun to have them separated. It wasn't needed but it's what I wanted.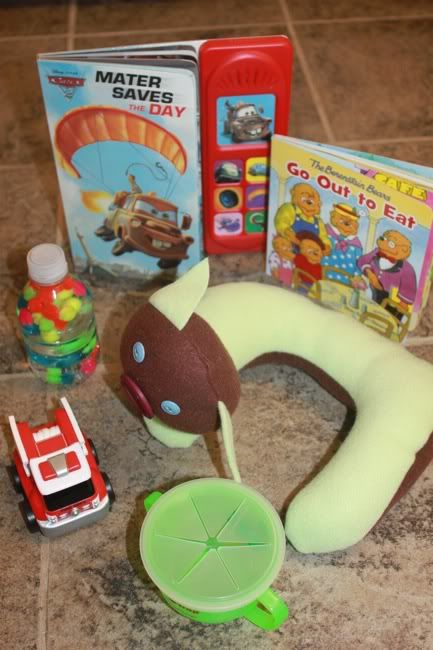 These are the treats I filled the bag with. A friend recommended getting a noise making book. The boys love cars (in general) so I thought a book that had cars on it would be perfect. The noise book was the most expensive treat in the bag. I got a regular cardb0ard book. The boys LOVE books. I got a fire truck. Again they love cars. A snack cup. We have never used a snack cup before so I thought it would be fun for them. I thought it could keep them occupied just trying to figure out how to get the snack out of the cup. I made a neck pillow with a little critter on it. On Pintrest I found a 'magic wand' tutorial. The boys had SO much fun making them with me. They call it their Shake Shake bottle. Not in the picture is a Magna Doodle. A friend recommended that and I had already thought of it (but completely forgot). G loves the doodle at church. I was happy that I had two doodles in my school supplies from my classroom so I ran up to the attic and grabbed them before we left.
Here are the treats from the other bag. Everything is the same (just a little different). The doodles were different colors. This car is a police car not a fire truck. The contents in the Shake Shake bottle are different and the books are different titles. The snack cup (not pictured is blue not green).
I went with alike/same items that way they could share but not be upset if brother had something because there was something else just like it in his bag. I am glad the treats weren't exactly the same. When M got board with his Shake Shake bottle he and G would trade. The same goes for the cars and the books.
So, how was the drive you ask? How did the treat bags work out? How long did the drive take? Was there more crying than last time?
I will share that in my next post :)