My Aunt called us Sunday night to invite us to my cousins for a last minute 4th of July get together.
Of course I wanted to bring dessert with.
I made flag sugar cookies.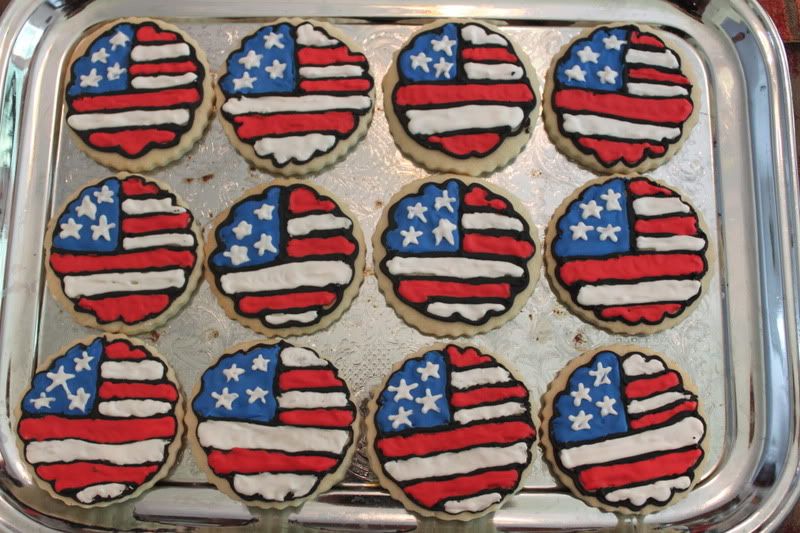 I made homemade chocolate cake & cupcakes with a creamcheese frosting and festive berries to top.
I made a blueberry crisp. Which I didn't take a picture of, because a crisp is a crisp. After having the crisp in the oven for the 25 minutes the recipe called for I felt that it needed to stay in there longer. I left it in, but I was very disappointed with how I thought it was going to come out. I tried a new recipe. Hubs yelled at me and said why would you mess with something that is already so good. He just doesn't get it :) (After having some at the party he said it was good, but he likes the original better.)
After looking at the crisp (which looked really good) I decided that I had to make a cherry crisp too...but with my normal crisp recipe and not the new one (which won't be used again). Live and learn :)
I had a bunch of cookies left over and gave them to hubs to take to work Tuesday morning. He sent me a picture with the tub of cookies with minimal cookies left saying, It's not even 10am and your cookies are almost gone. That made me happy :)
I will be posting about another cake soon. I have an order due Saturday morning. It's going to be wild :)