This week the boys and I attended VBS. The theme this year was PandaMania. The church looked GREAT. They did a great job making the church look like a jungle where pandas and other wild animals would want to be.
I was one of the helpers in the nursery. Part of me was very excited that I was going to be helping out again for the first time in YEARS. The other part of me was dreading the week. VBS goes from 9:30-12:00. My babes nap (yes I know this is extraordinary) from anywhere between 9:00/10:00 - 12:00/1:00. I was so upset that I was going to be taking my babes best nap of the day away for 5 days (well really 7 because we had a busy weekend last weekend and they didn't nap).
After Tuesday I decided that there was NO way I could MAKE them miss their nap AGAIN. I asked my mom if she could stay with them Wednesday morning. They were SO happy to be home. They napped from 9:30-2:00 that day. I even had a chance to go get a hair cut before coming home - which was DESPERATELY needed! When I got home it was 1:30. My mom had the babes lunch in the oven getting everything ready for the cuties. After I fed them lunch the boys and I played HARD. We had SO much fun. This was the most fun I had all week! I really missed them during the week. Even though I was with them most days it felt like I didn't see them at all because I was holding and playing with other babies instead of them :( so sad!
This is a snap shot of the fun we had Wednesday evening.
Gunnar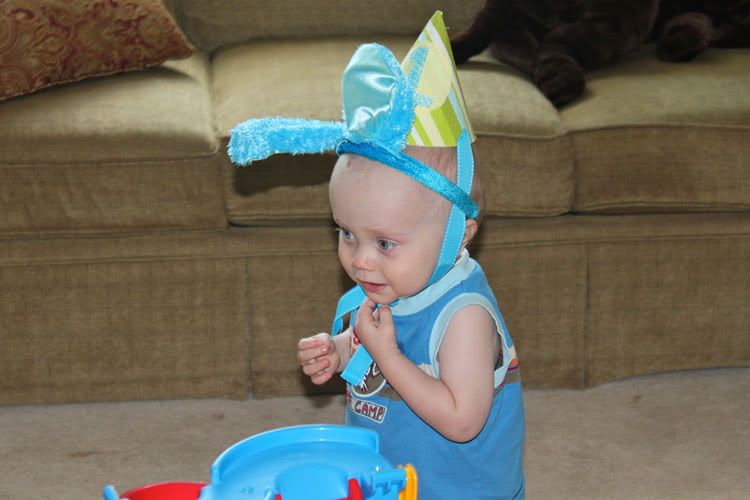 Micaiah
The boys (more so Gunnar) LOVE hats! Gunnar pulls his bunny ears from Easter off the shelf at least once a week and asks me to put them on him. For about an hour they were going back and forth from their birthday hats, bunny ears, and winter hats.
Thursday I decided to take the boys to the nursery with me again. Yikes! My easy going care free babes were not happy. Any on looker would say otherwise, but Mama Bear knows her cubs and they were not themselves. They were very jealous on this day. I decided that I would let them stay home again on Friday. My mom felt bad for the boys and for me, so she did the nursery for me on Friday instead of me going. Shhhh, don't tell...it was WONDERFUL staying home with my babes!
Friday night was the closing ceremony for VBS. I wanted to take the babes so that they could watch all the kids sing on stage. They lasted for about 30 seconds and then they wanted down and wanted to run. We didn't mind at all. The multipurpose room was SO hot that we were happy to chase them around the nice cool hallways.
After the ceremony all of the kids and parents get to enjoy some refreshments. To help out the refreshment table I made these.