On Sunday night Hubs decided to make dinner for all of us - Mama, the little twins, and the big twins.
He bought a 12lb pork loin the last time we went to the whole sale club. He has been wanting to make it since we got it the week before. At first he wanted me to put it in the oven, but then he decided that he wanted to grill it.
Once he got the idea in his head he started to do some research on how to grill a piece of meat this big. He found a rub recipe that he thought would be good and got to work.
While Hubs was in the kitchen rubbing the pork the babes and I were sitting on the floor in the hallway watching though the kitchen gate (yes the kitchen is gated off).
Hubs spent some time in the kitchen and some on the deck making sure everything was perfect. It was quite entertaining. He doesn't do much of the cooking and he was really into this meal.
When he was outside with the grill the boys and I watched through the window.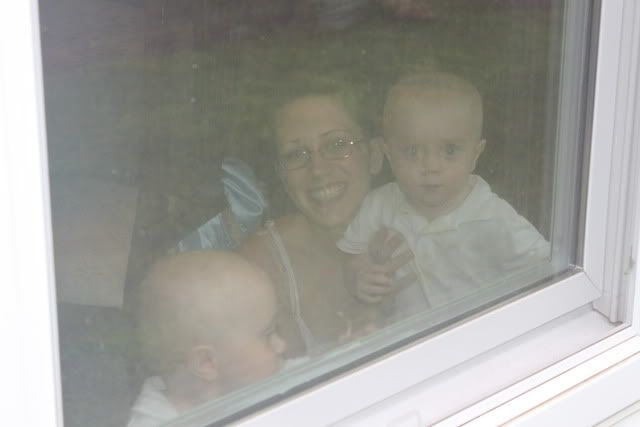 He even took care of all of the fixings - rice, brown sugar carrots, and stir fry veggies.
Here is the final outcome of the pork. OH MY WAS IT AMAZING!!!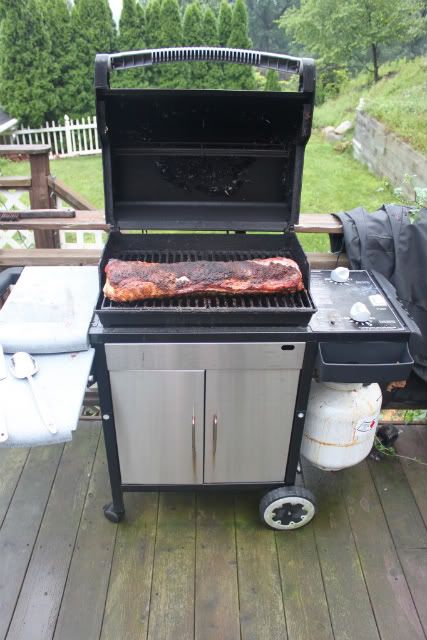 He did such a great job. He was so SO proud of himself. The whole time he was cooking he couldn't stop talking about how good it all smelt, looked, etc. When everything was done he was saying, I did all of this. Then when we were eating he kept saying oh wow. I finally had to tell him, hubs you did a great job, thank you thank you, but shoosh :)