Lately we have been doing a whole lot of hanging out.
The boys and I have been tormenting their uncles (my brothers) just about every day this week. They are leaving to go back to their high school in MN tomorrow so the babes and I stand at the top of the stairs and yell MATT - JAY until they come up to see us. The yelling takes a long long time because they are too busy watching tv or playing their video games. :(
When the babes and I play I am always sitting or laying on the floor. I don't often sit on the chair or couch. If I sit on the floor the babes will run up to me and kiss me or hug me or bring me a book and sit on my lap. If I'm on a chair or the couch they ignore me. I LOVE my kisses so I stay on the floor. Often Daddy and I will pretend to sleep on the floor when we are playing. Then one of the babes will come up and jump on us, or poke us to get a reaction. G has started to pretend to sleep on the floor too.
The boys LOVE their dogs. They have 2 of them. Sota and Jersey.
Sota is short for Minnesota. Since hubs is from Minnesota we thought it would be a perfect name. She was a gift to me from my hubs and my mom a few months after hubs and I got married. My mom was afraid that I would get preggo right away and didn't want me too (we were still in college) so she thought the dog would help take care of that. Sota has always been such a sweet mild mannered fluff ball. She would get very excited if people were around, but would eventually calm down and just lay on their lap or by their feet. She has always LOVED children. We tried to keep kids around her because we knew we wanted them one day. Of course she DOES NOT like our kids. It's so sad. We keep her in the kitchen most of the time. The boys love to go to the kitchen gate and give her kisses through the webbing. Sometimes she kisses back and sometimes she snaps at their fingers. You just never know. We do let her out when the boys are napping or go to bed for the night. We try to let them all play together so that she will hopefully like them one day.
Jersey (of course named after New Jersey-where I'm from) is the most gentle loving dog ANYONE could ever come across. You need to know I'm TERRIFIED of dogs. The first day we had Jersey hubs had to run to the store and left me home alone with him for a couple hours that night. I sat in the corner crying trying to stay as far away from him as I could. Not anymore. I'm not even the in the littlest afraid of this mush ball. The boys adore him. He lets them climb on him, pet him, explore him. Of course one of us is always with them just to be smart (safe). He too is normally in the kitchen during the day but I take him our to play every once in a while. He gets so excited when he's playing with the boys that his tail smacks them in the face and he runs them over. After the initial excitement he just lays on the floor with them and gets lots and lots of kisses. *We do let the dogs out of the kitchen when hubs gets home. I didn't want another dog...I actually wanted to get rid of Sota. I felt like it was way too much for me to take care of all four of them throughout the day so I leave them in the kitchen. Don't worry I feed them and let them out several times a day - and once the boys go down for naps they can join me in my daily tasks - but once they boys wake up it's back into the kitchen for them.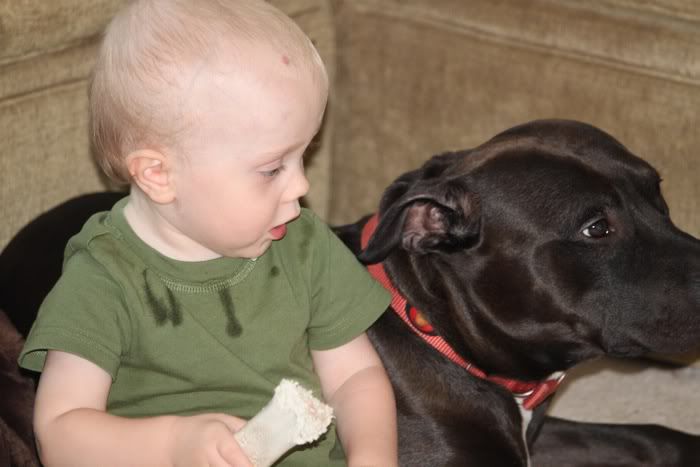 M and Jersey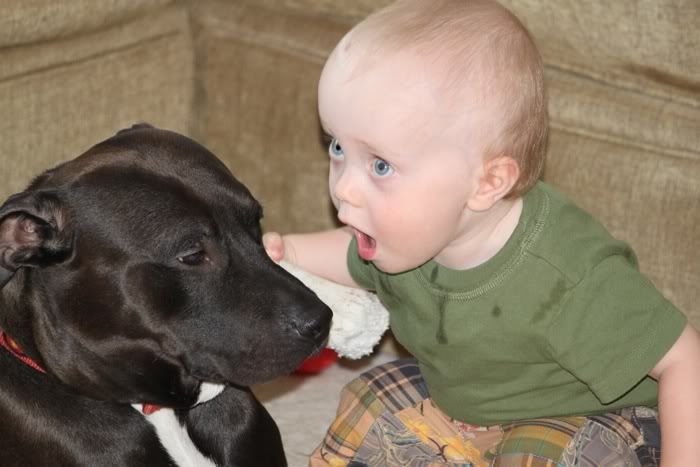 M giving Jersey a kiss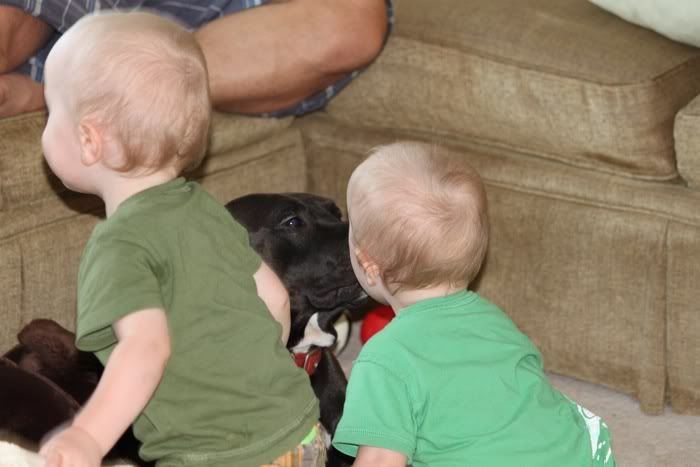 G kissing Jersey
I've never met a babe that doesn't like to play airplane. You know lay on your back and put your babe on your legs to fly. M & G are not huge fans of it. They love to be thrown, they love to swirl, and they love to look at airplanes, but they just don't love to lay on your feet or knees and pretend to fly.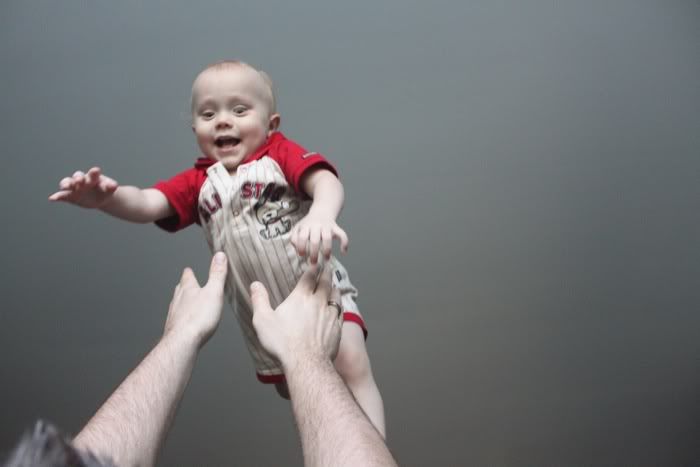 G being thrown.
M being thrown.
Just to add to the randomness of todays post...
I got a new lens for my camera and it arrived today! I am so excited. I haven't had a chance to use it yet... well that's not the total truth... here is a picture I was able to take
I can't wait to try it out on the babes!!