Last night I had to run out to the car to get my tripod. I HATE the cold. Even though I was only going to be outside for 30 seconds and it really wasn't that cold I still decided to put on my fleece.
I LOVE my fleece. It's dirty and ugly and not very flattering at all. I bought it when I was hugely preggo with the boys. My winter jacket didn't fit and I thought that a nice little fleece would be perfect to go under it. I never thought my $20.00 fleece would be SO WARM! I can seriously wear this thing with no jacket... crazy!
Anyway... I didn't hang it back up when I came inside. I threw it over the chair in the living room and we sat down to read out Christmas book. When we were done reading G picked it up and said "jacket, Mommy, jacket" and handed it to daddy. So Hubs put the jacket on G.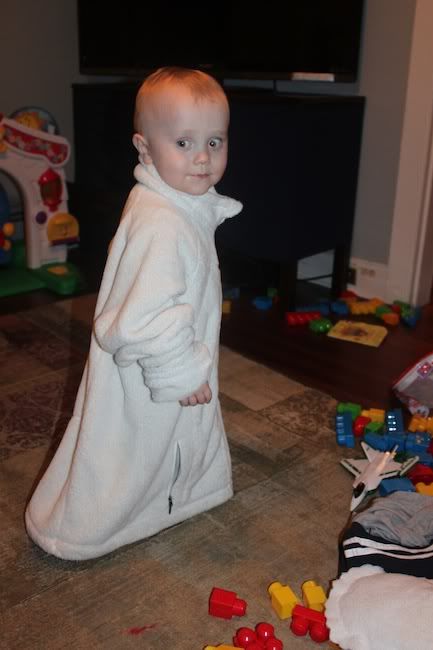 Doesn't he look like the happiest little ghost on the block.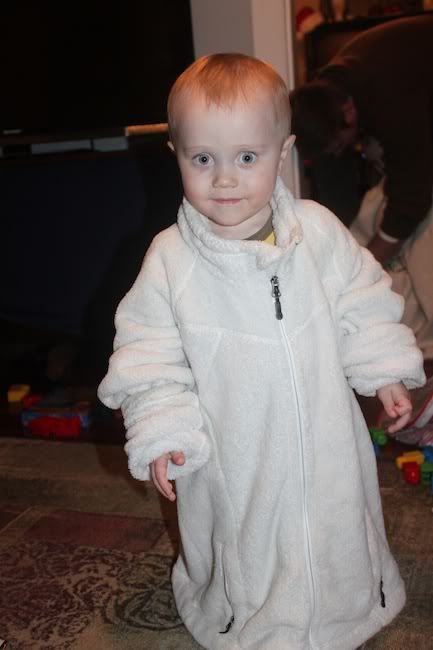 After G walked away M followed him. M went to G's front and began to unzip the fleece. G wasn't happy about it, but M was determined to get that jacket off of G so he could wear it. They were both being very stubborn and both ended up on the floor in a pile.
I had another fleece in the kitchen so Hubs ran to get it and put it on M. Who was tickled pink that he could wear Mommy's jacket too.