We decided that we would go see Santa after church yesterday. The boys were so excited. They point out Santa every where they see him. Actually a few weeks ago we went to Walmart and G saw a round man in a red zip up hoodie with a white beard and white hair. When we walked by he said, "santa" (in the sweetest voice ever) then continued with HO HO HO. I don't think the man heard but I can't be too sure.
Hubs forgot that he had a Youth Leader meeting after church. So of course the boys and I had to wait almost 2 hours until they were done. Thankfully our church has a wonderful nursery with LOTS and LOTS of toys. Hubs came in to get us and he even said... wow this is more of a mess than it was after church. The boys definitely had fun!
By the time we were finally able to leave church and get to the mall the boys were SO tired. It was after 2:00pm. The boys normally nap from 11:00-3:00 (the first hour they play through the crib slats).
When we got to the mall we decided we should eat first. We had Yumm Pizza as the boys call it. Then headed over to Santa's Village.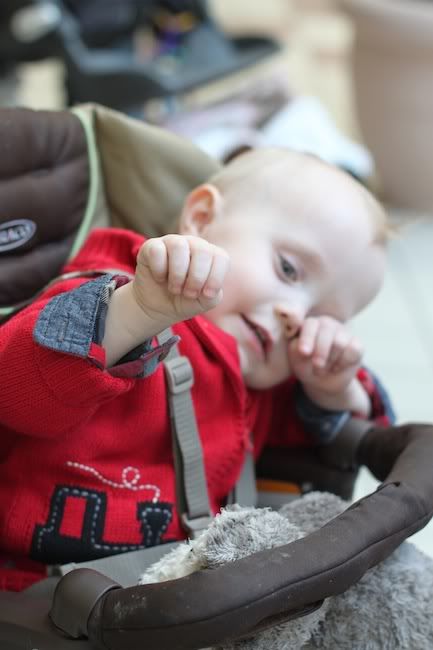 Sleepy G.
Sleepy M
They perked right up when they saw Santa. I can't imagine what they would have been like if they weren't so exhausted.
M left, G right.
I love this one. It's like M and Santa are having a great conversation and G is happily waiting until Santa will have a 'secret' conversation with him too.
After we saw Santa the boys got balloons. If you've ever read my blog before you must know how much they LOVE balloons. Santa and balloons all in one day! They were in their glory.
Daddy rubbed G's head all over with the balloon... he had some great looking hair after that.
Next week I am planning on taking the boys to go read with Santa. On Tuesday mornings Santa reads to boys and girls. I think they would LOVE that.