I had a Mommy and Babe Christmas party. I had a lot planned for this party. I knew that there was a great possibility of not doing any of it. The oldest babes were mine. (There were some older ones invited but they couldn't make it). The youngest was 7 weeks (if I remember correctly). So I knew that there would mostly be playing and eating. I was right :) But this is what was planned...
I purchased cute little snowmen cups and plates and Santa cups and plates for the 'older' kids.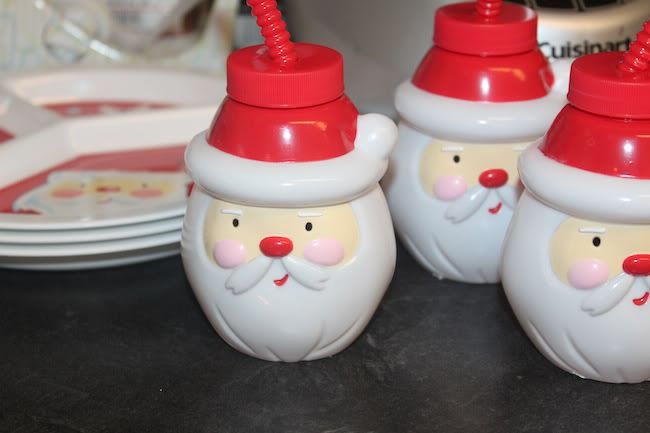 On the kitchen table I had all of the desserts. I made little snowmen cupcakes. They were chocolate cupcakes with vanilla frosting and marshmallow snowmen made with edible marker.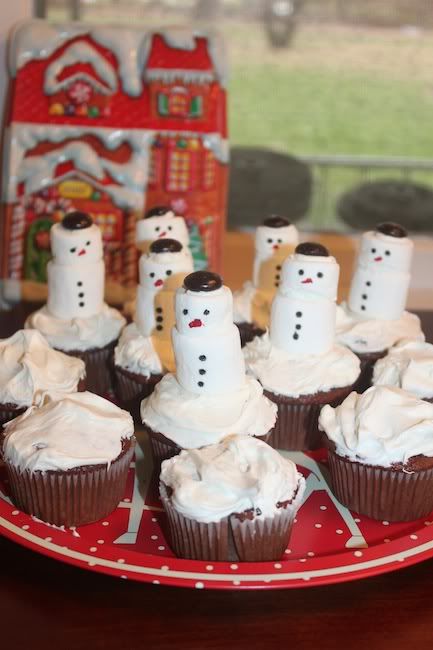 I had a plate of Christmas cookies. Starting from left and going to right: Krinkle cookies (I just call them gingerbread men... but they are so much better), Ritz crackers with peanut butter sandwiched in between dunked in almond bark, Peanut Butter Blossoms (peanut butter sugar cookie with Hershey Kiss), Ghram Cracker with melted peanut butter and chocolate with white chocolate swirl, Chocolate Sandwich Dream (chocolate cookie with mint frosting), Ritz dunked in mint flavored chocolate with crushed candy cane.
Behind the cookies were little favors for all the babes. I got them little hand size cardboard Christmas books.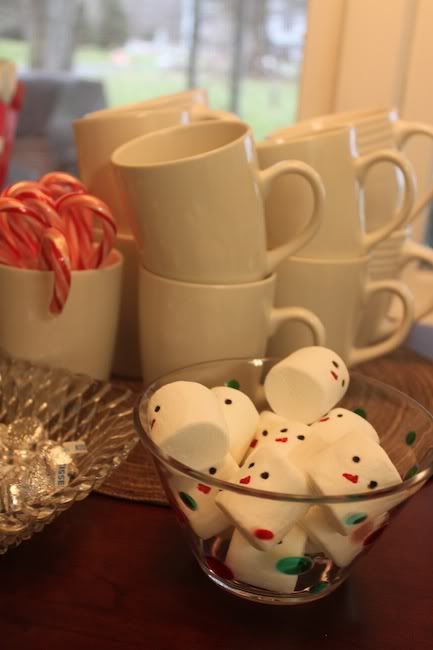 I also had all of the hot chocolate mugs and accessories out on the dessert table. I had a cup of candy canes to stir the hot cocoa and a bowl of snowmen face marshmallows. The hot chocolate looked SO cute when it was made. I filled the cup with the yummy chocolate drink and then swirled (so much) whipped cream on top and carefully dropped a few snowmen in. Poor little guys were melting away.
Here's a shot of the table all together.
I didn't take any other pictures at the party but there was a lot more going on.
I put all of the lunch food on the counter. I had a plate of winter cheese (cheese cut with winter cookie cutters - mittens, hats, and snowflakes), a holly bowl of grapes, a snowman plate of cut apples and oranges, a santa plate with turkey and cheese slices, a santa plate with croissants and bread, a bowl of chicken salad, and a bowl of egg salad. YUM!!!
After we indulged in our lunch and desserts (which of course were picked at the entire get together) the kids completed their little craft. I don't have much room in my little house. I definitely don't have enough space for everyone to sit at a table together. So I chose a craft that was special for the Mommies rather than the babes. Honestly the babes are so young what would they care :) . I pre-made salt dough ornaments for all of the babes. I made the dough, cut out large circles, and placed the circle in a zip lock bag initialed with the babes letters. I tried to make it easy enough for Mama to grab their babe smoosh their hand on the circle and be done. When the ornaments were done I put them on the kitchen counter and made a little hole in each with a straw.
I also made sugar cookies with an easy butter frosting tinted in a bunch of different Christmas colors. I knew it would be a long shot having any of the kids decorate their cookie or cookies, but I wanted to be prepared. No one did decorate a cookie, but I look forward to doing this with the boys and Hubs some night this week.